Event Date: 9/27/2022 - 9/27/2022
Strategic Pricing: Why Money is So Important in Gov Con Webcast
September 27, 2022 1:00pm-1:30pm EDT
This month's TargetGov Meet the Experts™ session addresses "Strategic Pricing: Why Money is So Important in Gov Con" where we will be joined by our partner subject matter expert: Marsha Lindquist, an experienced pricing strategist & contracts professional at Granite Leadership Strategies.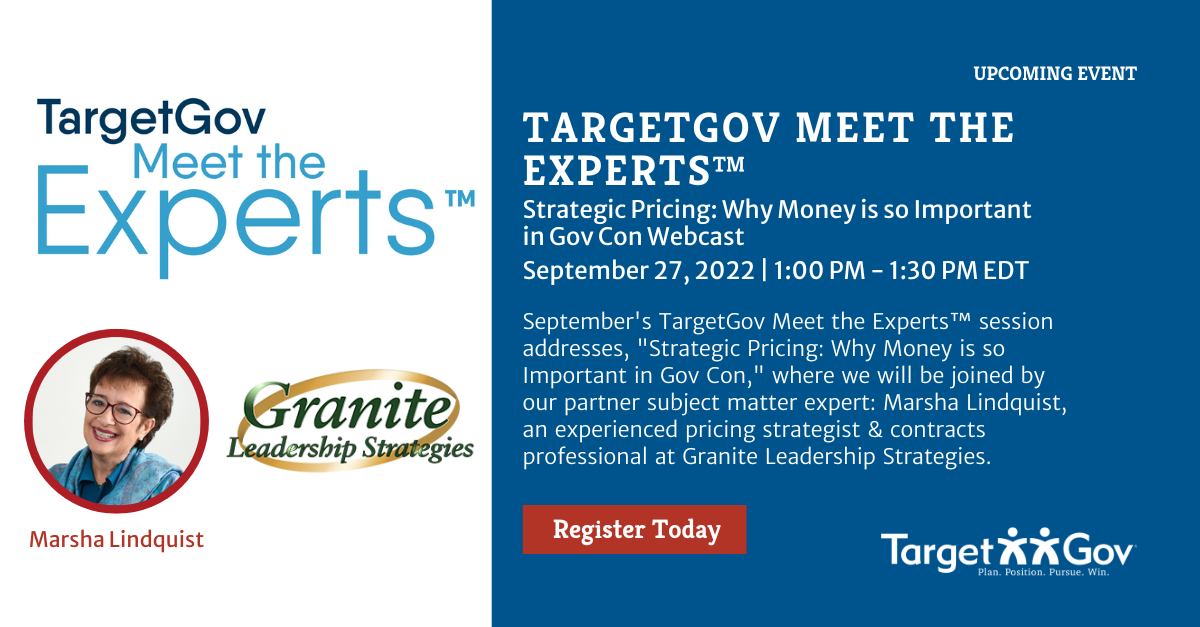 If price is so important, then you must make it a top priority. Too many contractors slap the pricing together as if cost and profitability are not significant. They spend enormous amounts of time developing the technical approach and little time on the pricing. Want to take back control of YOUR pricing? Let's talk about the key pricing objects you need to change.
1. What makes early pricing so important?
2. Getting the information you need to make the right pricing decisions
3. The top processes you need now to make pricing easier
4. The maximumly-effective pricing strategies you rarely use
Cannot attend in-person? Register and receive the recording and all handouts for access at your convenience.
Forward this information to your colleagues and and friends who could benefit from about importance of strategic pricing.
Learn more about the TargetGov KickStart Program®  and the TargetGov FAST® Process by contacting us directly at 410-579-1346 x325 or email us at FAST@TargetGov.com.
View our digital resources here.