Event Date: 12/2/2022 - 12/2/2022
What You don't Know CAN Hurt You, Leveraging GSA's MRAS Service
December 2, 2022 , 12:00pm-1:00pm EDT
Join Gloria Larkin, President & CEO at TargetGov and Stacy Swann, National Account Manager-DHS, DOJ, NASA, USACE, for GSA FAS Office of Customer Accounts & Stakeholders Engagement  for this SAME DC Post First Friday Lunchtime Learning Session. What has caused the dramatic turnaround in the use of GSA Schedules and other A/E/C Best-in-Class contract vehicles and a direct benefit to some of those companies who have those contract vehicles? The GSA has developed an incredibly smart service with the mysterious name of MRAS, offering it at no cost to any federal government entity, with the end results being in-the-know contractors winning more contracts and as an example, the GSA Schedule usage exceeded $39 billion in 2021, a growth of 18% since it's low point of $32.2 billion in 2018.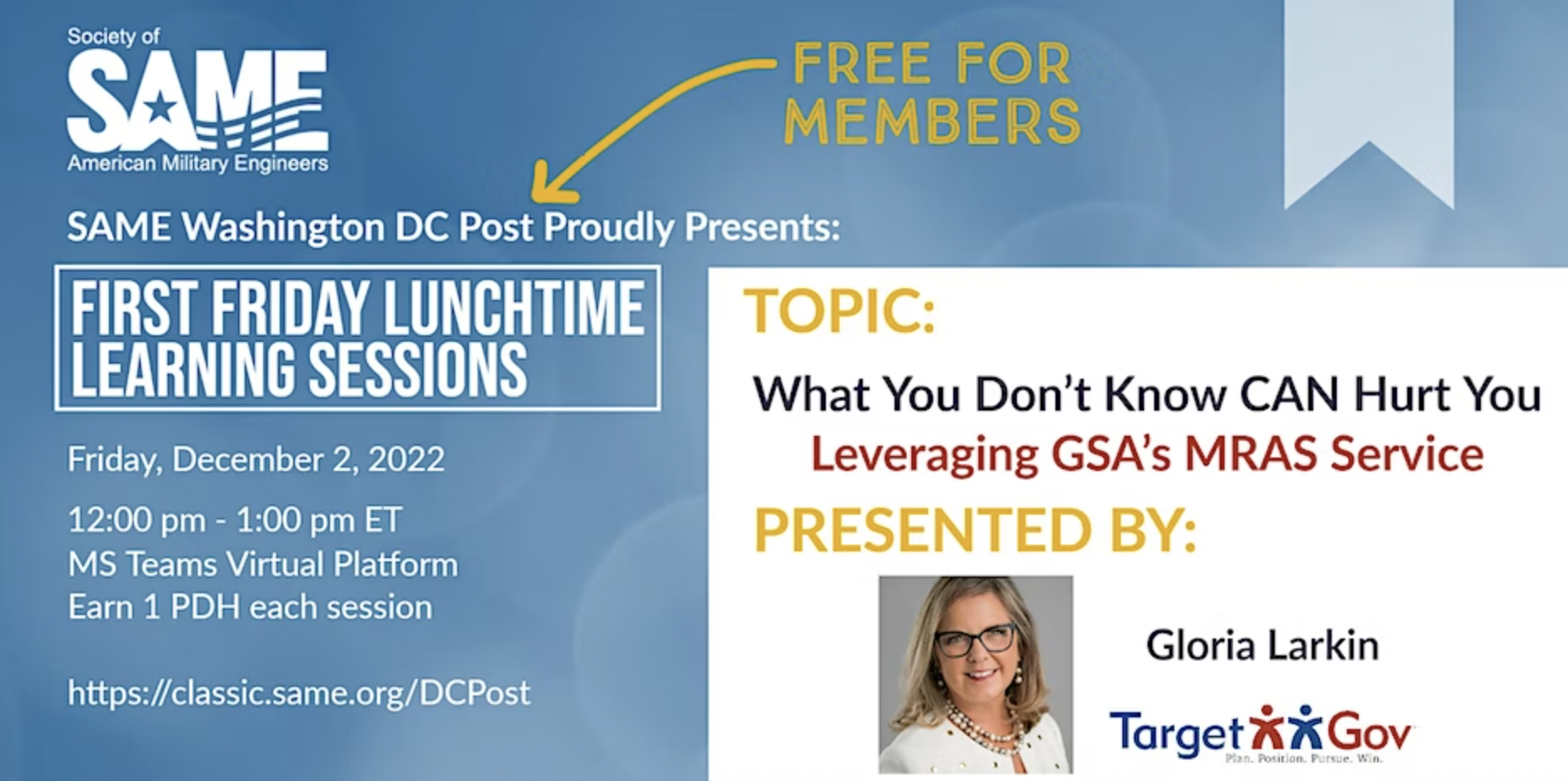 Attend this session and learn the following takeaways:
Clearly understand the FAR market research process and purpose as it affects the A/E/C industry.
Discover the Market Research as a Service (MRAS) performed by GSA for all agencies, and how it impacts all contract vehicles.
Identify the automatic, robotic and artificial intelligence tools the government is using during market reach for A/E/C opportunities.
Determine exactly what steps all large and small companies can take immediately to be found by the data scraping tools and positively position to win through this tight research timeline
Registration is complimentary for all SAME members. TargetGov is a member of SAME. Become an SAME member now.
Attend this webinar and earn 1 PDH. Through a commitment to offering effective training, development and networking programs, SAME DC Post is helping sustain the future of the profession with monthly education-focused sessions to deliver topical and relevant content to our industry. The program is a one-hour educational professional development opportunity every first Friday of the month virtually, hosted by SAME DC Post.
Learn more about the TargetGov KickStart Program®  and the TargetGov FAST® Process by contacting us directly at 410-579-1346 x325 or email us at FAST@TargetGov.com.
View our digital resources here.