Event Date: 8/17/2021 - 8/17/2021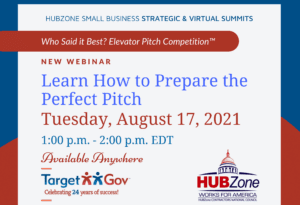 An Elevator Pitch can be likened to a verbal business card that showcases who you are and what you do. It is a handy approach that can be used anywhere, anytime, and with anyone.
If you plan to participate in the Who Said it Best? Elevator Pitch Contest at the HUBZone Small Business Strategic Summit and/or Virtual Summit, then consider attending this one-hour webinar training that's focused on optimizing your ability to pitch an idea and sell your goods and services to the federal government. By the end of this webinar training, participants will better understand how to create a pitch that is clear, concise, credible, concrete and, above all, conversational.
Join seasoned industry leader Gloria Larkin, president and CEO of TargetGov, on Tuesday, August 17, from 1:00 to 2:00 p.m. and learn how to prepare the perfect pitch!