Event Date: 2/12/2023 - 2/16/2023

Join our sessions:
"Customers Love You – Prove It to Win" at "Meet the Experts"  featuring Gloria Larkin, President and CEO at TargetGov with Marie A. Myszkier, Procurement Specialist, Florida PTAC at the University of North Florida, February 13th,  1:00pm-2:00pm CDT in Elite Hall A-B
Who Said It Best™ Elevator Pitch Workshop and Coaching, February 13th, 2:30pm-3:30pm CDT in Elite Hall A-B
"Capturing Past Performance" panel session with Gloria Larkin, President and CEO at TargetGov and Jon DeVore, Partner and Vice President at Birch, Horton, Bittner & Cherot P.C. February 15th, 2:00pm-3:00pm CDT in Strand 12AB, Level 2.
Talk with our team at our Booth #329 in Elite Hall A-B. Email us now at FAST@TargetGov.com to schedule an appointment with us onsite.
Enter the Who Said It Best™ Elevator Pitch Competition LIVE on stage,   February 13, 2023 from 4:00pm-5:00pm CDT. Cash and prizes will be awarded and judges will announce the grand prize winner LIVE. It is your chance to Win.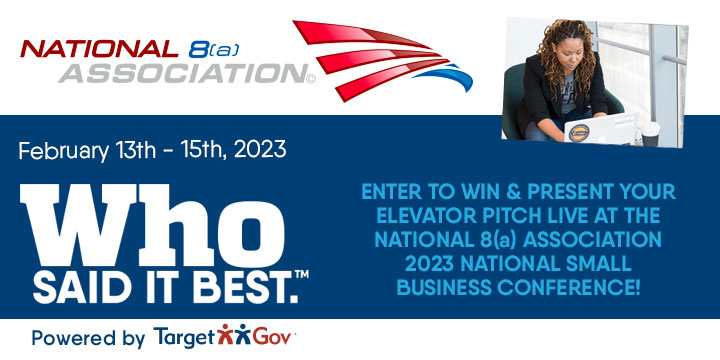 Follow these simple steps to enter by the deadline of February 8, 2023:
Simply get your cell phone and record your 90 second elevator pitch.

Not sure what to say? View our complimentary webinar for the guidelines and suggested content: Click here and be sure to use the case sensitive password: 238aPitchPreWeb

After recording your 90 second pitch, upload it to YouTube and email us at events@targetgov.com with the link.
The top contestants will be notified and have the chance to compete live and in-person at the National 8(a) Association, National Small Business Conference
This high-energy, live, in-person 90-second, elevator pitch competition is open ONLY to registered National National 8(a) Association Conference attendees.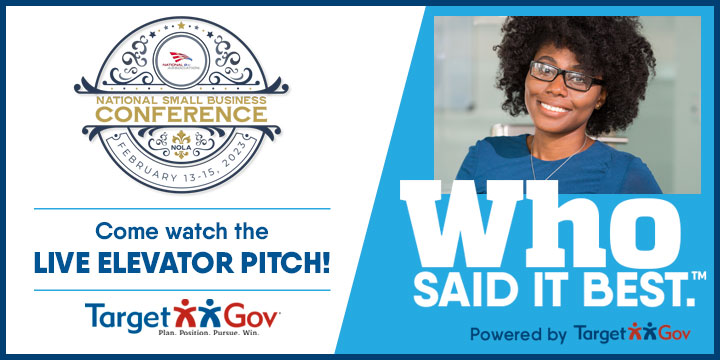 The National 8(a) Association National Small Business Conference is the premier supplier diversity event for small businesses.
The Conference offers educational sessions, matchmaking, networking and resources for all small businesses including: minority, aspiring, current and graduate 8(a), HUBZone, SDVOB, VOSB, SDB, WOSB, DBE, and teaming partnerships. The event attracts hundreds of federal agencies, large business primes, and corporate companies to provide multiple opportunities in one location to grow your business in the federal contracting arena.
Learn more about the TargetGov KickStart Program®  and the TargetGov FAST® Process by contacting us directly at 410-579-1346 x325 or email us at FAST@TargetGov.com.
View our other products offered here.