Event Date: 12/10/2019 - 12/11/2019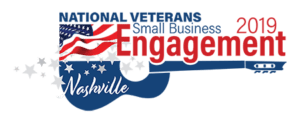 December 10, 2019 – 9:00am-9:45am – Bayou B – Advanced Tactics: Making the Leap from Subcontracting to Prime with Gloria Larkin
Meet up with Gloria  and other veteran businesses December 10 – 11 at the National Veterans Small Business Engagement.
The National Veterans Small Business Engagement (NVSBE) is the U. S. Department of Veterans Affairs' premier event and the largest federal procurement event of its kind. NVSBE enables business networking between procurement-ready suppliers and buyers, also known as Procurement Decision Makers (PDMs). This event will be focusing on procurement opportunities pertaining to information technology, medical supplies and service, and specialty supplies and service.
At NVSBE you will:
Meet directly with Procurement Decision Makers (PDM) from the U.S. Department of Veterans Affairs, other government agencies and private industry
Build relationships with potential customers and business partners during Business Opportunity Sessions, Key Leader Roundtable discussions and informal networking receptions
Connect with other business owners to share ideas and best practices
Gain information and tools to develop new revenue sources and position your business for growth.
To register for this conference or for more info click here.