Event Date: 1/1/1970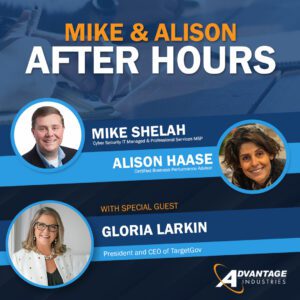 Title of Event: Mike & Allison After Hours
Tuesday, October 19th, 2021
Time: 9 a.m. EST
The Mike & Allision After Hours Podcast  will feature Gloria Larkin – President & CEO of TargetGov- as a special guest who will share her wealth of  experience as a small business owner committed to leading TargetGov's team, and helping her clients navigate the government contracting landscape.
Want to know how to get started with your business? Growth plans or strategy for the future? Do you need advice with your first steps into entrepreneurship? Tune in to learn more!
Connect with President and CEO, Gloria Larkin during our presentation on exciting new topics for this year!
Can't make it? A recording of the session can be accessed here 
Check out our resources & more at TargetGov
Learn more about the TargetGov KickStart® process and the TargetGov FAST® process by contacting us directly at 410-579-1346.
View our other products offered here.