Event Date: 11/1/2021 - 11/1/2021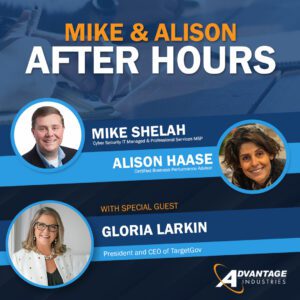 Mike & Alison After Hours Podcast
Discussing the Government Landscape with CEO and Owner Gloria Larkin
Mike Shelah & Alison Haase are IT and HR sales professionals that bring you some of the most interesting business owners in the Mid-Atlantic area.
A podcast for business owners to learn from their peers and get inspiration.
Available on iTunes, iHeart Radio, Stitcher, TuneIn, Spotify, Audible and Amazon Alexa.
Catch this sneak peek of the episode
Want the whole episode?? Check us out!
Stop by Mike & Alison After Hours for more information and resources
Learn more about the TargetGov KickStart® process and the TargetGov FAST® process by contacting us directly at 410-579-1346.
View our other products offered here.