Event Date: 5/2/2023 - 5/4/2023
A short trip to San Antonio could lead to long-term business connections! Join us and register for #SAMEJETC23 today! Register here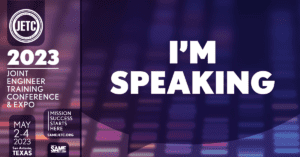 What You Don't Know About Market Research WILL Hurt You – 1 PDH – Track- Business Development & Marketing
Dates: May 3, 2023 2:30 PM – 3:30 PM CDT
Venue: Henry B. Gonzalez Convention Center
Room: Room 214B
The mandated market research process is being turned upside down for both large and small businesses with the new Market Research as a Service (MRAS) provided at no cost to all federal agencies by the General Services Administration. Companies ignoring or ignorant of MRAS are locked out of opportunities even before the bid is released.
Government is making a dramatic pivot in contracting and acquisition processes and this session deals with specific changes affecting the A/E/C community, how the government designed them to function, how large business is affected and what both large and small businesses can do take advantage of these changes. We will focus on the critical first step, the Market Research process, because if this new process is not understood nor embraced, it will totally shut you out of business and opportunities even before the bid is released, no matter how strong your relationships are or how robust your bid and proposal process is.
We address these changes from three different experts: Stacy Swann, USACE National Account Manager for GSA's Federal Acquisition Service; Michael Reign, Vice President, AECOM, National Governments Business Practice, GSA Client Account Manager; and Gloria Larkin, President and CEO, TargetGov, national federal contracting marketing expert.
Visit us at Booth 621
2023 JETC will include over 80 hours of education and training sessions, keynote speaker, myriad networking activities, a robust exhibit hall, and countless opportunities to connect and meet with decision-makers throughout industry and government.