Event Date: 11/13/2022 - 11/15/2022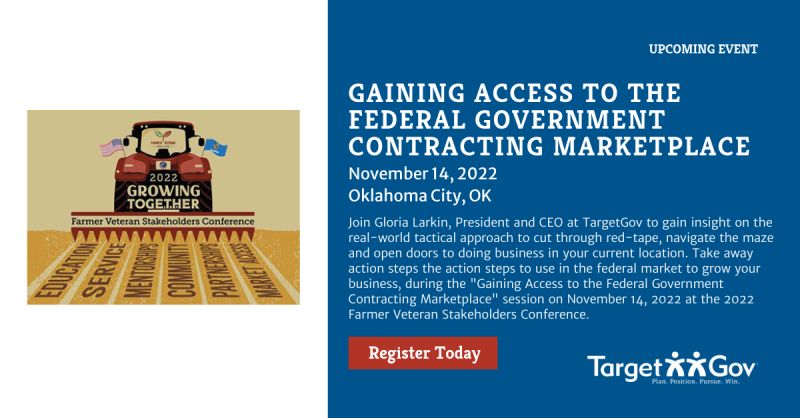 Gaining Access to the Federal Government Contracting Marketplace
November 14, 2022 3:3opm-4:15pm CDT, Joyner Room, Sheraton Midwest City Hotel at the Reed Conference Center
All federal entities, including the Department of Defense and Civilian agencies are mandated to buy products and services from small and veteran-owned businesses. A recent executive order increased the goal by billions of dollars to be awarded to small businesses throughout the United States. Attend this session with Gloria Larkin, President and CEO at TargetGov for a real-world tactical approach to cut through red-tape, navigate the maze and open doors to doing business in your current location. Action steps will be covered to use this federal market to grow your business.
'Growing Together' –  the 8th Farmer Veteran Stakeholders Conference  is back for the first time in-person since 2020.
Learn more about the TargetGov KickStart Program®  and the TargetGov FAST® Process by contacting us directly at 410-579-1346 x325 or email us at FAST@TargetGov.com.
View our digital resources here.