Event Date: 5/24/2023 - 5/24/2023
Captivate and Engage Your Untapped Federal Customer with Gloria Larkin 
Wednesday May 24, 2023 2:30pm,
VETS23 
Pelican Room, Tower Conference Building
Approximately one out of every 10 dollars of federal spending goes to contractors. Dramatic changes in contracting best practices, leaner acquisition and buying departments, tighter company marketing budgets, and shrinking attention spans – challenges that are stacking the deck against contractors.
Government customers want to know what you'll do for them and how you stand out from the competition. Effective
marketing
builds relationships that result in increased revenues. Uncover passive and proactive marketing strategies with an eye towards high ROI, possibly even no-cost marketing.
Captivate and engage your untapped federal customer by:
Premier positioning – before the bid hits the street
Breaking through the brick wall- proactively market to the right decisionmakers
Unlocking the gateway – eliminating the "chasing the bid" mentality
Frequency amplification – differentiators that matter to the customer
Launching – tips and rules on acceptable marketing tools and tactics
Tangible value – customer value received from selecting your company
This session will elevate your positioning for a successful fiscal year end, identifying what tactics are successful and which ones you want to eliminate from your budget. Come fill your pipeline at the VETS23 Conference!
Add this dynamic and powerful session to your VETS23 itinerary – visit the
Sessions page
and click the calendar icon to add the details and location to your calendar- Wednesday May 24, 2023 2:30pm, Pelican Room, Tower Conference Building.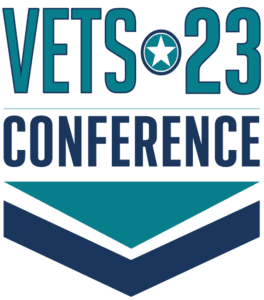 VETS23 is currently SOLD OUT.