Event Date: 3/1/2016 - 3/1/2016
Get visual! Qualified companies who do not communicate with compelling proposal graphics frequently lose federal contracts to vendors who do win. This unique hands-on class trains people who have no graphics background, to create visually communicative graphics without using expensive, complicated software. You will learn to deploy techniques and strategies using PowerPoint and other readily available programs to graphically enhance your next proposal, presentation, sales/marketing effort or seminar to drive visual readers to quicker affirming decisions.  Responding to federal RFPs can be a high-stakes gamble. Average proposal costs have risen nearly 50% in just three years.
Attend this class in-person at our new office.

Mike Parkinson, one of the industry's best visual communications experts and published author, will teach you how to:
Increase your odds to win contracts
Differentiate your company
Make your proposals stand out as the best solution
Quickly and clearly communicate complex information and concepts
Enhance evaluators rapid understanding of your company's value
Effective visual communication drives readers to clearer understanding and quicker affirming decisions. Even with no graphics background, you will create visually communicative, compelling graphics. Mike Parkinson reveals skills, techniques, and strategies enabling you to create dynamic visual materials for presentations, sales, marketing, and seminars.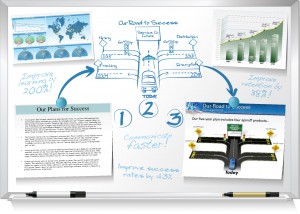 Image Courtesy of Mike Parkinson, 24 Hour Company
Large and small businesses use Mike Parkinson's Billion Dollar Proposal & Presentation Graphics to win billions in government contracts. No design aptitude is necessary.
Turn complex ideas and text into easy-to-understand graphics
Influence and motivate your audience to buy your solution
Learn when and where to use graphics to your best advantage
Quickly develop graphics quickly that are right the first time
Identify which imagery, colors, fonts and styles to use and why
Employ best practices, tips, tricks and secrets from the expert
Write up to 50% faster
Provided Course Materials
Billion Dollar Graphics Book, PAQS Questionnaire, Graphic Cheat Sheet, Winning Graphic Checklist, Top 11 Free and Low-cost Websites for Graphics

Schedule
Date: Tuesday, March 1, 2016
Time: 9:00am – 4:00pm
Cost: $745
Format:  In-Person Class
Location: TargetGov Offices
780 Elkridge Landing Road Suite 204
Linthicum Heights, MD 21090
Breakfast, snacks and lunch are provided. Please alert us to any dietary needs in the comments section upon registration.
The Institute is conveniently located off I-95, just minutes from BWI. Contact us at www.GovernmentContractingInstitute@targetgov.com for travel and hotel information.
Who Should Attend:
As a proposal writer, graphic specialist, proposal coordinator, proposal manager, or subject matter expert, your company is counting on you to create compelling presentations that will win contracts. Taking this course will help you meet that goal!
Bring your graphic challenges or text you are struggling with for a real-time project focus. Mike will help conceptualize winning graphics and share PowerPoint tools, tips and tricks.

Instructor
Mike Parkinson (PPF.APMP) is an internationally recognized proposal expert and visual communication guru, award-winning author, APMP Fellow, and professional trainer. As an owner of 24 Hour Company, the premiere proposal graphics firm, Mike has spearheaded multi-billion dollar projects and created thousands of graphics resulting in billions of dollars in increased revenue for his clients. His Billion Dollar Graphics book and website, BillionDollarGraphics.com, and Get My Graphic website, GetMyGraphic.com, share best practices and helpful tools with proposal professionals.
Custom Training
We offer on-site, customized training for your company. For more information, contact us at GovernmentContractingInstitute@targetgov.com, or call 866-579-1346.