Event Date: 5/10/2022 - 5/12/2022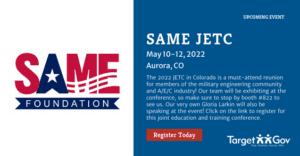 2022 SAME Joint Engineer Training Conference & Expo
May 10-12, 2022
This conference will be a reunion for members of the military engineering community and A/E/C industry. It will be back in person this year after two years virtually; bringing together professionals from both the private and public sectors.
Don't miss out on this must-attend event to include education and training sessions, keynote speakers, networking activities, exhibit hall and multiple opportunities to connect with decision-makers throughout the government and industry.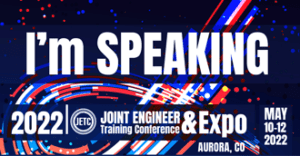 Gloria Larkin is speaking on "Game-changing Robotic Market Research Wins A/E/C Contracts" and TargetGov will be exhibiting at booth 822.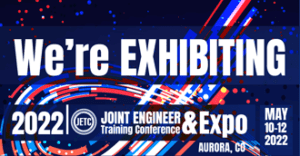 Register for the event here
Learn more about the TargetGov KickStart Program® and the TargetGov FAST® Process by contacting us directly at 410-579-1346 x325.
View our other products offered here.